Piccirillo, Robert Vincent aka "Bobby Pickles"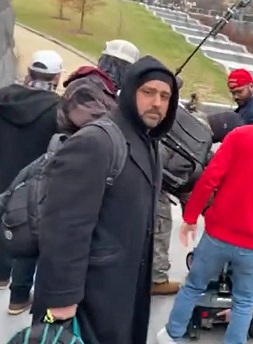 Full name (Latin characters)
Piccirillo, Robert
Last name
Piccirillo
First name
Robert
Middle name
Vincent
Twitter hashtag
#PicklesPB
Alias
Bobby Pickles
Location
FL
Website
DOB
1980-04-05
Additional Notes
regarding Proud
Boys J6 march
Piccirillo is president of the West Palm Beach Proud Boys and the owner of t-shirt retailer Fat Enzo. He gave an interview in which he admitted being part of the mob that was tear-gassed while clashing with police. He is seen on video at the western steps of the Capitol.
Keywords
Group affiliations :
| ID | Group Name | (Parent Org) | Role |
| --- | --- | --- | --- |
| | Proud Boys | | member |
| | Zone 6 - Miami/Broward | Proud Boys | |
Additional data from LittleSis.org
Check LittleSis.org for additional documentation of items below.
Related Party
Description
Detail
Start
End
Count
Sum
Currency
Click Me
Description
Partner ID
Partner Link
J6 Case history
All subjects are innocent before the law until proven guilty in court.
| | |
| --- | --- |
| Alleged J6 Role | Invader |
| Case ID | |
| Case Status | |
| FBI BOLO ID | |
| Age at time of offense | |
| Employer at time of offense | Fat Enzo tees |
| Position at time of offense | owner |
| Empl. Status | |
| Charges | |
| URL | |
| Notes | https://www.newyorker.com/magazine/2021/01/18/a-palm-beach-proud-boy-at-the-putsch |
Reference material:
Case history:
| ID | Incident | Case Status | Charges | Arrest date |
| --- | --- | --- | --- | --- |
| | January 6th 2021 Putsch at the United States Capitol | | | |
Associates:
| File | Photo | Name | Connection | Detail |
| --- | --- | --- | --- | --- |
| | | Cannon, Chris | Connected via social media | Venmo |
| | | Pierson, Jonathan Paul | Connected via social media | Venmo |
| | | Garrett, Troy | Connected via social media | Venmo |
| | | Cisneros, Thad Matthew | Connected via social media | Venmo |
| | | Porter, Mike Wayward | Connected via social media | Venmo |
| | | Dominguez Fuentes, Adolfo Jose | Appears in photo(s) together | 4 |
| | | Chrestman, William Norman | Appears in photo(s) together | 3 |
| | | Marinello, Charles | Appears in photo(s) together | 1 |
| | | Crookston, John R. | Appears in photo(s) together | 1 |
| | | Donovan, William | Appears in photo(s) together | 1 |
| | | Hashtag: #BaldBadFlag | Appears in photo(s) together | 1 |
| | | Hashtag: #BashfulPB | Appears in photo(s) together | 1 |
| | | Hashtag: #BeadyEyesPB | Appears in photo(s) together | 1 |
| | | Mullin, Gregory Kevin II | Appears in photo(s) together | 3 |
| | | Hashtag: #BlackLeatherPB | Appears in photo(s) together | 2 |
| | | Hashtag: #BlueSutherlandPB | Appears in photo(s) together | 1 |
| | | Hashtag: #BootsPB | Appears in photo(s) together | 2 |
| | | Hashtag: #BunyanPB | Appears in photo(s) together | 1 |
| | | Hashtag: #BurtonPB | Appears in photo(s) together | 1 |
| | | Valentino, Alesandro Arthur | Appears in photo(s) together | 5 |
| | | Ramey, Barry Bennett | Appears in photo(s) together | 1 |
| | | Hashtag: #CoachPB | Appears in photo(s) together | 1 |
| | | Hashtag: #CokeStrokePB | Appears in photo(s) together | 1 |
| | | Colon, Louis Enrique | Appears in photo(s) together | 1 |
| | | Hashtag: #ColSandersPB | Appears in photo(s) together | 1 |
| | | Adams, Trace | Appears in photo(s) together | 2 |
| | | Hashtag: #CyclopsPB | Appears in photo(s) together | 1 |
| | | Hashtag: #DiagonalCamoPB | Appears in photo(s) together | 2 |
| | | Hashtag: #DTOMGaiterPB | Appears in photo(s) together | 1 |
| | | Hashtag: #EarnhardtPB | Appears in photo(s) together | 2 |
| | | Tarrio, Henry | Appears in photo(s) together | 4 |
| | | McGrew, Joshua | Appears in photo(s) together | 1 |
| | | Pepe, Will | Appears in photo(s) together | 1 |
| | | Harris, Johnny | Appears in photo(s) together | 1 |
| | | Santos, Marcos James | Appears in photo(s) together | 1 |
| | | Hashtag: #FLKangPB | Appears in photo(s) together | 2 |
| | | Burwell, Keith | Appears in photo(s) together | 7 |
| | | Hashtag: #GetPumpedPB | Appears in photo(s) together | 1 |
| | | Nunez, Genaro | Appears in photo(s) together | 1 |
| | | Hashtag: #GoldHelmetPB | Appears in photo(s) together | 1 |
| | | Viss, Justin Cayde | Appears in photo(s) together | 1 |
| | | Saenz, Michael | Appears in photo(s) together | 1 |
| | | Hashtag: #GreenDiabloPB | Appears in photo(s) together | 1 |
| | | Hashtag: #GreenRangerPB | Appears in photo(s) together | 1 |
| | | Hashtag: #GreyBuzzcutPB | Appears in photo(s) together | 1 |
| | | Hashtag: #GreyStripeGaiterPB | Appears in photo(s) together | 1 |
| | | Walter, Matthew | Appears in photo(s) together | 1 |
| | | DeRijk, Menno Sr. | Appears in photo(s) together | 2 |
| | | Clements, Parker Stephen | Appears in photo(s) together | 3 |
| | | Biggs, Joseph Randall | Appears in photo(s) together | 4 |
| | | Hashtag: #JoeDirtPB | Appears in photo(s) together | 2 |
| | | Valdes, Jomar | Appears in photo(s) together | 1 |
| | | Hashtag: #KidRedPB | Appears in photo(s) together | 1 |
| | | Luccketti, Mark Anthony Jr. | Appears in photo(s) together | 2 |
| | | Staggs, Zachary Thomas | Appears in photo(s) together | 1 |
| | | Rohlfing, Lucas Anthony | Appears in photo(s) together | 4 |
| | | Nugent, Travis Wayne | Appears in photo(s) together | 1 |
| | | Loehrke, Ronald | Appears in photo(s) together | 1 |
| | | Dawson, Michael | Appears in photo(s) together | 6 |
| | | Porter, Mike Wayward | Appears in photo(s) together | 1 |
| | | Scott, Daniel Lyons | Appears in photo(s) together | 1 |
| | | Hashtag: #MohawkPB | Appears in photo(s) together | 2 |
| | | Causey, William Cody | Appears in photo(s) together | 1 |
| | | Hashtag: #MrMustardPB | Appears in photo(s) together | 1 |
| | | Hashtag: #NinjagoPB | Appears in photo(s) together | 2 |
| | | Giddings, Isaiah | Appears in photo(s) together | 1 |
| | | Bertino, Jeremy Joseph | Appears in photo(s) together | 2 |
| | | Jeans, Keith M. | Appears in photo(s) together | 2 |
| | | Hobbs, Brett | Appears in photo(s) together | 1 |
| | | Hashtag: #OrangeRWDSPB | Appears in photo(s) together | 1 |
| | | Northcross, Michael John | Appears in photo(s) together | 1 |
| | | Allen, Christie | Appears in photo(s) together | 1 |
| | | Brett, James IV | Appears in photo(s) together | 1 |
| | | Garcia, Gabriel Augustin | Appears in photo(s) together | 4 |
| | | DeRirk, Menno Jr. | Appears in photo(s) together | 1 |
| | | Homer, Lisa Ann | Appears in photo(s) together | 1 |
| | | Pierson, Jonathan Paul | Appears in photo(s) together | 3 |
| | | Ronayne, Michael | Appears in photo(s) together | 2 |
| | | Rice, Bradley | Appears in photo(s) together | 4 |
| | | Meza, Asher | Appears in photo(s) together | 2 |
| | | Karanikas, Nikolaos | Appears in photo(s) together | 2 |
| | | Hashtag: #RedTreadPB | Appears in photo(s) together | 1 |
| | | Delatorre, Edgar J. | Appears in photo(s) together | 1 |
| | | Harris, Adam | Appears in photo(s) together | 1 |
| | | Hashtag: #RodgersPB | Appears in photo(s) together | 1 |
| | | Stone, Roger Jason Jr. | Appears in photo(s) together | 1 |
| | | Nordean, Ethan Michael | Appears in photo(s) together | 1 |
| | | Kennedy, Nicholas L. | Appears in photo(s) together | 1 |
| | | Whorton, Bartholomew Richard | Appears in photo(s) together | 1 |
| | | Worrell, Christopher J | Appears in photo(s) together | 1 |
| | | Garrett, Troy | Appears in photo(s) together | 9 |
| | | Hashtag: #SmilesPB | Appears in photo(s) together | 1 |
| | | Hashtag: #SouthwestPB | Appears in photo(s) together | 2 |
| | | Hashtag: #SpacklerPB | Appears in photo(s) together | 2 |
| | | Smawley, James | Appears in photo(s) together | 1 |
| | | Hashtag: #SubZeroPB | Appears in photo(s) together | 1 |
| | | Fonticoba, Gilbert | Appears in photo(s) together | 6 |
| | | Mellette, Jamie Gene | Appears in photo(s) together | 1 |
| | | Hashtag: #SweatsPB | Appears in photo(s) together | 1 |
| | | Bru, Marc Anthony | Appears in photo(s) together | 3 |
| | | Miles, Steven | Appears in photo(s) together | 1 |
| | | Hashtag: #TanStripePB | Appears in photo(s) together | 1 |
| | | Kuehne, Christopher Charles | Appears in photo(s) together | 1 |
| | | Bates, David Mitchell | Appears in photo(s) together | 2 |
| | | Hashtag: #ThanosPB | Appears in photo(s) together | 1 |
| | | Konold, Felicia | Appears in photo(s) together | 3 |
| | | Konold, Cory | Appears in photo(s) together | 3 |
| | | Finley, Jeff | Appears in photo(s) together | 4 |
| | | Hashtag: #TrackSuitPB | Appears in photo(s) together | 1 |
| | | Hashtag: #UnderTheBlueHoodPB | Appears in photo(s) together | 1 |
| | | Barcenas, Christopher George | Appears in photo(s) together | 4 |
| | | Birdsong, Michael | Appears in photo(s) together | 1 |
| | | James, Jason | Appears in photo(s) together | 2 |
| | | Gieswein, Robert Dean Carr | Appears in photo(s) together | 1 |
| | | Hashtag: #WimpyThor | Appears in photo(s) together | 1 |
| | | Alonso, Fernando | Appears in photo(s) together | 1 |
| | | Ashlock, Ryan | Appears in photo(s) together | 1 |
| | | Rehl, Zachary | Appears in photo(s) together | 4 |
| | | Haffner, James | Appears in photo(s) together | 1 |