Sitosky, Joseph Robert aka "Joe Spadaro"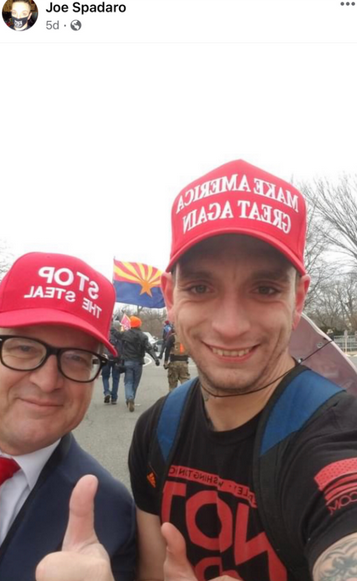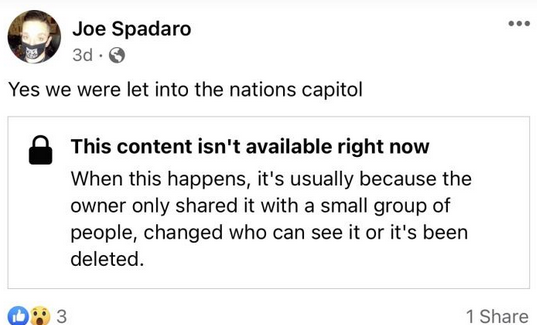 Full name (Latin characters)
Sitosky, Joseph Robert
Family/Last name(s)
Sitosky
Given/First name
Joseph
Middle name(s)
Robert
Twitter hashtag
#SpadaroPB
Alias
Joe Spadaro
Location
Ravenna OH
Website
DOB
Additional Notes
regarding Proud
Boys J6 march
Sitosky (aka "Joe Spadaro") posted to Facebook about having been in the Capitol and livestreamed from one of the scaffolds on the west lower terrace.
Keywords
Group affiliations :
| ID | Group Name | (Parent Org) | Role |
| --- | --- | --- | --- |
| | Proud Boys | | member |
Additional data from LittleSis.org
Check LittleSis.org for additional documentation of items below.
Related Party
Description
Detail
Start
End
Count
Sum
Currency
Click Me
Description
Partner ID
Partner Link
J6 Case history
All subjects are innocent before the law until proven guilty in court.
| | |
| --- | --- |
| Alleged J6 Role | Invader |
| Case ID | |
| Case Status | |
| FBI BOLO ID | |
| Age at time of offense | 27 |
| Employer at time of offense | |
| Position at time of offense | |
| Empl. Status | |
| Charges | |
| URL | |
| Notes | Posted to Facebook about having been in the Capitol and live streamed from one of the scaffolds on the west lower terrace. |
Reference material:
Case history:
| ID | Incident | Jurisdiction | Case Status | Charges | Arrest date |
| --- | --- | --- | --- | --- | --- |
| | January 6th 2021 Putsch at the United States Capitol | | | | |
Associates:
| File | Photo | Name | Connection | Detail |
| --- | --- | --- | --- | --- |
| | | Haynes, Joshua Dillon | Appears in photo(s) together | 2 |
| | | Biggs, Joseph Randall | Appears in photo(s) together | 1 |
| | | Smith, Mark Edward | Appears in photo(s) together | 6 |
| | | Hashtag: #OrangeRWDSPB | Appears in photo(s) together | 1 |
| | | Northcross, Michael John | Appears in photo(s) together | 1 |
| | | Ashlock, Ryan | Appears in photo(s) together | 1 |
| | | Rehl, Zachary | Appears in photo(s) together | 1 |
Web presence:
| ID | Picture | External ID | Display name | Description | Phone | Email | Source |
| --- | --- | --- | --- | --- | --- | --- | --- |
| | | joe.spadaro.545 | | | | | Facebook |