Hoel, James Allan aka "J-Bird"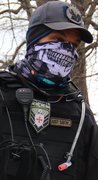 Last name
Hoel
First name
James
Middle name
Allan
Twitter hashtag
#SecretSquirrel
Alias
J-Bird
Location
Port Charlotte FL
Website
https://www.facebook.com/coastalmoldremoval/
DOB
1972-03-22
Additional Notes
regarding Proud
Boys J6 march
This man marched with the Proud Boys and was photographed by Buggs Photography at the police line on the lower terrace, past multiple barricades. He is also seen in multiple Parler videos taken at the same location. He has been dubbed "#SecretSquirrel" on Twitter due to the logo on his hat, and was often seen in the company of Christopher Worrell who, like him, is a Proud Boy from Florida.
Keywords
Group affiliations :
| ID | Group Name | (Parent Org) | Role |
| --- | --- | --- | --- |
| | Proud Boys | | |
| | Zone 5 - Hurricane Coast (Sarasota) | Proud Boys | |
J6 Case history
All subjects are innocent before the law until proven guilty in court.
| | |
| --- | --- |
| Alleged J6 Role | Invader |
| Case ID | |
| Case Status | |
| FBI BOLO ID | |
| Age at time of offense | 49 |
| Employer at time of offense | |
| Position at time of offense | |
| Empl. Status | |
| Charges | |
| URL | |
| Notes | https://twitter.com/Detrumpify_org/status/1456483142055780354 |
Reference material:
Case history:
| ID | Incident | Case Status | Charges | Arrest date |
| --- | --- | --- | --- | --- |
| | January 6th 2021 coup attempt against the United States | | | |